What is a Key Programmer?
Autel MaxiIM IM508 key programming is a device that can be used to recode the transponder in a mechanical key or key fob. Some automobiles have specially coded transponders in their keys. A car's on-board computers is accessible when it recognises the microchip inside transponder car keys, and without this the car will not open or start, that's because the keys unique code cannot be read. When this happens car key reprogramming is required using Autel IM508 key programmer.
When a car's key needs to be replaced, the new device can turn the mechanical switch but cannot initialize the system or start the vehicle. If this happens, it is usually because the transponder inside the key is not coded to that particular system. Whether the keys are obtained from a dealer or locksmith, they need to be encoded. Of course, there are vehicles that allow owners to encode their own keys, which the top of the line automotive programmer Autel IM508 can solve everything for you.
What is the Autel IM508?
The autel key programmer im508 is the perfect solution. IM508 automotive scanner maximizes its powerful capacity in IMMO functions, key programming, all-system diagnostics, and 36 service. This device combines the latest hardware technology with cutting-edge software to help you unlock the potential of your car's ECU. With its deep car-brand coverage, advanced diagnosis and special functions, this device allows you to quickly diagnose problems, program keys, reset computers, and perform other vital tasks. Learn how the Autel MaxiIM IM508 key programming can help simplify your mechanics work today!
-Hardware
Operating System:

Android™ 4.4.4, KitKat

Processor:

Cortex-A9 processor(1.6 GHz)

Memory:

32GB

Display:

7-inch LCD capacitive touchscreen with 1024x600 resolution

Connectivity:

Mini USB 2.0; USB2.0; Wi-Fi; Micro SD card slot

(supports up to 32GB)

Sensors;

Ambient light sensor for brightness auto changing

Power and Battery:

3.7 V/5000 mAh lithium-polymer battery
Charges via 5 VDC power supply

Tested Battery Life:

Around 4.5 hours of continuous use

Battery Charging Input:

5V/1.5A

Power Consumption:

500 mA (LCD on with default brightness, Wi-Fi on)@3.7 V

Operating Temp.:

0 to 50°C (32 to 122°F)

Storage Temp.:

-20 to 60°C (-4 to 140°F)

Operating Humidity:

5%-95% non-condensing

Net Weight:

885g(2.31|b.)

Supported Automotive Protocols

ISO9141-2, ISO14230-2,ISO15765, K/L-Line, Flashing Code, SAE-J1850 VPWSAE-J1850 PWM, ISO11898 (Highspeed, Middlespeed, Lowspeed and Singlewire CAN, fault-tolerant CAN), SAE J2610,GM UART,UART Echo Byte Protocol, Honda Diag-H Protocol, TP2.0, TP1.6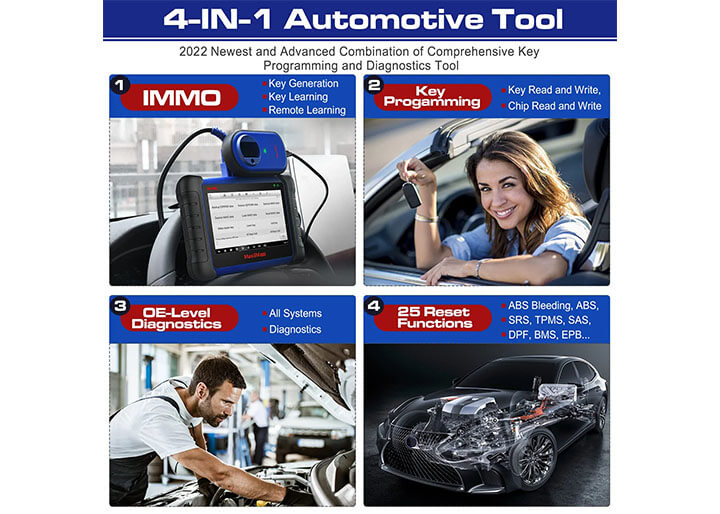 -Functions
With the autel im508 advanced key fob programming tool you can perform a wide range of automotive diagnostic tasks such as reading and clearing DTCs (Diagnostic Trouble Codes) from all vehicle systems such as ABS (anti-lock brake system), SRS (supplemental restraint system), TPMS (tire pressure monitoring system), engine controls etc. You can also reset the ECU or immobilizer on most vehicles to program new keys or replace lost keys with ease. The device also provides detailed auto service information such as electronic parking brake services and air conditioning maintenance reset functions.
The Autel MaxiIM IM508 Key Programming Tool also offers additional features that make it ideal for both professional mechanics working in shops or independent users wanting to gain access to the full power of their cars from home. The device comes equipped with special functions like Oil Reset Service which allows you to reset the oil life monitor after an oil change without having to remove any component from the vehicle; Electronic Parking Brake Reset which helps you reset your electronic parking brake after servicing; Battery Maintenance which allows you to check and register battery replacement data; Steering Angle Sensor Calibration which helps ensure accurate readings during alignment services; and much more.
-Bi-Directional Control
Many technicians use a scan tool only to retrieve diagnostic trouble codes (DTCs) and look at parameter data, while overlooking other powerful features. One of these overlooked features is bidirectional control.
Bidirectional control is a generic term used to describe sending and receiving information between one device and another. The vehicle engineers responsible for designing computer control systems programmed them so a  Autel iIM508 could request information or command a module to perform specific tests and functions. Autel refer to bidirectional controls as functional tests, actuator tests, inspection tests, system tests or the like. Reinitialization and reprogramming also can be included in the list of bidirectional controls.
The Autel IM508 key programmer is the primary bidirectional control device and could actually be called a bidirectional tool, because it sends information to, and receives information from, vehicle control modules. For example, in the case of OBD II generic information Mode 1 (which relates to data parameters), the Autel IM508 user initiates a request for information from the powertrain control module (PCM), and the PCM responds by sending the information back to the scan tool for display.
-OE-level Diagnostic Capability
In simple terms, OE-level tools means having tools and autel key programmer im508 that allow your team to perform the same level of analysis, diagnosis and repair as the OEM dealer. It can makes to read & clear DTCs, view live data, freeze frame data, and ECU info, perform active tests and compatible with MV108. With just a few simple clicks, you can quickly locate the issues to win more time and money.
-IMMO Functions
Connect the autel immo key programming tablet to the vehicle (via the Bluetooth VCI or Main Cable) and to the XP400pro (via USB cable) to access IMMO related functions, including Key Learning, Remote Control Learning, Remote Control Add, etc.
-Vehicle Coverage
The Autel MaxiIM IM508 is a powerful and versatile key programming tool that can be used with a variety of car brands. This device is compatible with over 60 car models, including Audi, BMW, Chevrolet, Ford, Honda, Hyundai, Kia, Mercedes-Benz, Nissan/Infiniti, Opel/Vauxhall, Porsche, Renault/Dacia, and Toyota/Lexus. Among them, Ford, Chrysler, Renault, Fiat, Nissan, Hyundai Kia part of the model year 2022 support. And the car brands and models are still in the process of continuous improvement and update.
-Kit Contents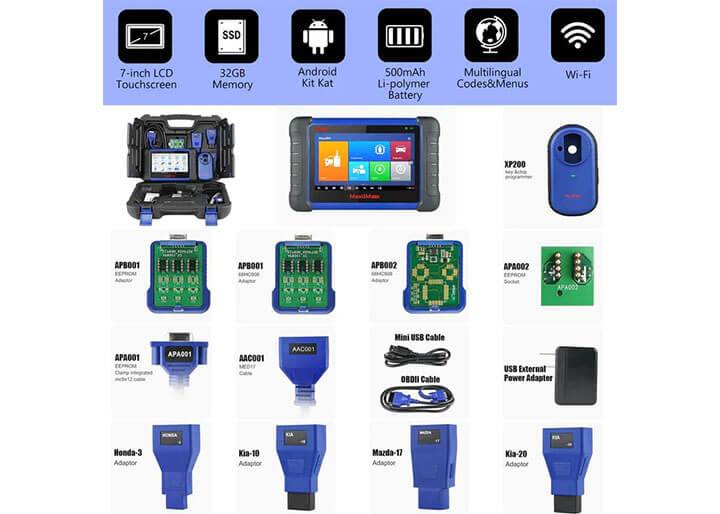 Autel IM508's with what accessories become more powerful?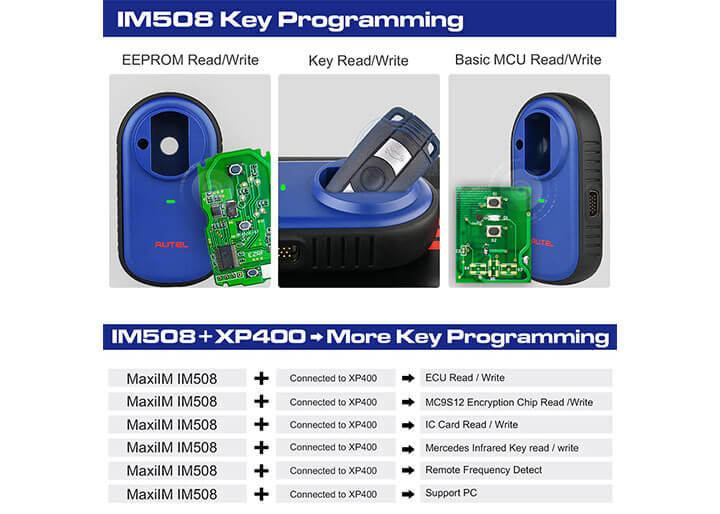 Purchase IM508: Presenting 1 year software update service and 1 year official warranty.
Now that you know all about the Autel IM508's features and capabilities let's summarize: Investing in an autel key programmer im508 is beneficial for anyone looking for an easy way to diagnose their vehicle's issues quickly and accurately! Thanks to its intuitive key grammer technology your mechanic will be able to effectively pinpoint problems without having to manually inspect each component individually or do pricey repairs that won't actually address any underlying issue symptoms like stalling or low mileage performance. Plus, with its wireless connection capability this diagnostic tool has taken automotive diagnostics into modern times – making it much easier than ever before!