Autel IM608 II is a 10.1-inch, Android 10.0-based touchscreen tablet with advanced Qualcomm SDM660 8-Core Processor and 128GB storage, key and immobilizer programming capabilities, comprehensive diagnostic features, functions and tests, and an extensive service menu. The IM608 II  excels in key programming, supporting OBD key programming for 80% of the vehicles on the road today. Installed with a fast octa-core processor, Autel IM608 Ⅱ provides you with all special functions to quickly diagnose all system modules for the majority of vehicle makes and models. 
Note: IM608S II  = IM608 Pro II = IM608 II
Features of Autel IM608 II 
🥇Better Configurations:
Smart Mode for guided and automated key learning
Expert Mode for advanced key learning
Read PIN/CS (all keys lost) , key generation, key learning, remote learning
IMMO ECU reset/adaptation, refresh/coding
Transpronder read/write, EEPROM/MCU read/write  
Advanced, OE-Level Diagnostics for U.S., Asian, and European vehicles.
Extensive maintenance/services menu, including direct-access to EPB, DPF, SAS, Oil Reset, and BMS functions
Equipped with Autel Remote Expert capbility. Connect remotely with experienced experts ready to assist you with any diagnostic problem.
All maintenance reports stored in the cloud, allowing you to view device and test records anytime, anywhere
Qualcomm Octa-core Processor (2.2GHz)
10.1-inch LCD touchscreen with 1920 x 1200 resolution
128GB Storage Memory
Android 10 Operating System for fast boot-up and multitasking
Works for 95% Cars In The Wordwide

, Include BMW, BENZ, VW, AUDI etc. make your work simple and easier, Best Choice for Locksmith and Workshop

Extended to Work with Autel MV108/ MV105 allowing you to examine difficult-to-reach areas normally hidden from sight.

 It is capable of recording digital still images and videos, which offers you an economical solution to inspect machinery, facilities, and infrastructure safely and quickly.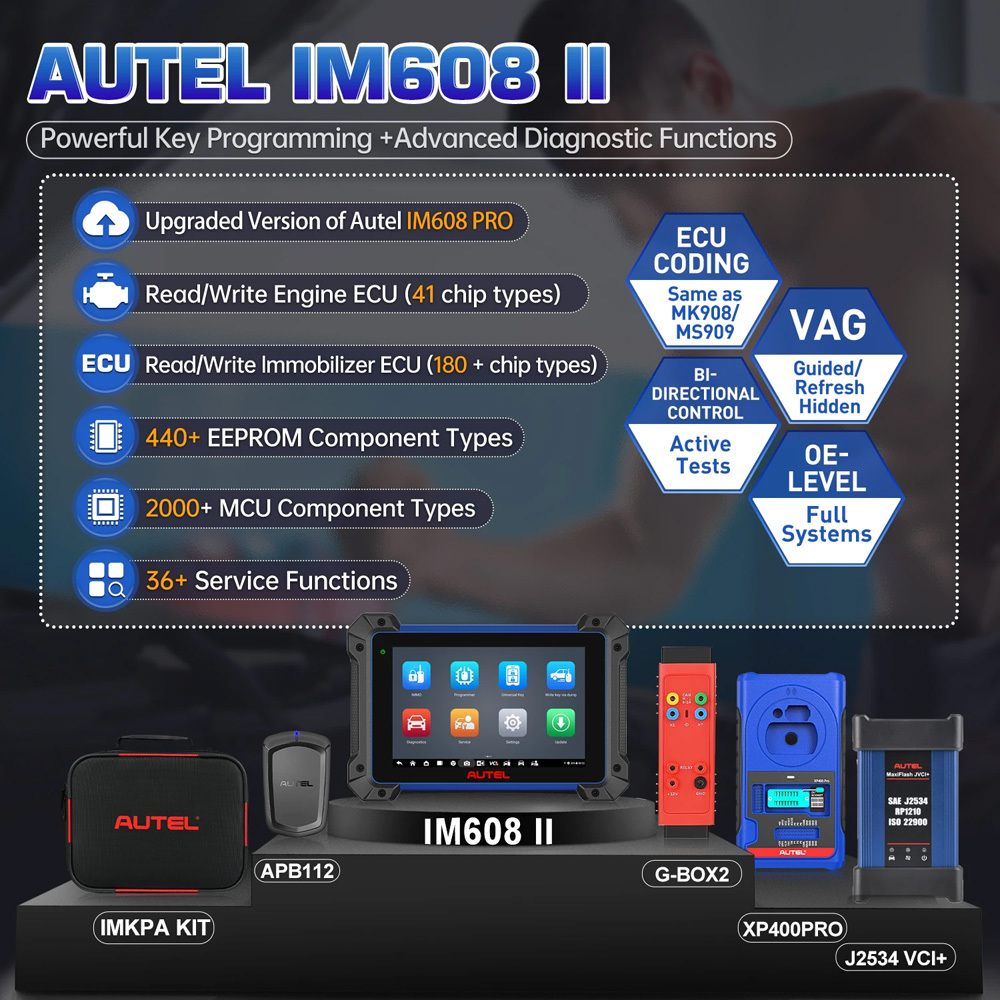 🥇Advanced Key Fob Programming Tool -Compared to IM508, IM608 & IM608 Pro, Autel IM608 II is better in performance & vehicle coverage. Comes with IMKPA & Gbox2 & APB112 to work with XP400 Pro to support 3000+ chip types, read PIN/CS (All Key Lost), backup/restore IMMO data, do IMMO ECU reset/adaptation/refresh/coding, extend key generation/add/learning for Benz/Audi/BMW, specialized in Mercedes Benz key data read/write/erase, VW/Audi/BMW/Benz key unlock, Benz OE NEC key learning, etc.

🥇Powerful ECU Programming & Coding Equipped with J2534 VCI - Autel MaxiIM IM608 II is able to do online ECU programming for Ben-z & BM-W: ECU software/firmware replacing, program new blank ECU, get the latest Software & etc. It can aslo do ECU coding such as unlock hidden functions, modify preset ECU parameters, replacement module matching, OE-setting customization to improve vehicle performance and extend service life. Same functions with Autel MS908S Pro II & MK908P II.

🥇36+ Services - For workshop owners who need a diagnostic tool that can help you solve various maintenance and reset tasks, then Autel IM608 II is a perfect solution by offering up to 36 services such as ABS Auto bleed, EPB reset, SRS Reset, Injector coding and so on. What's more, it can complete initial adaptation, self-learning or some auto detection function after maintenance or reset is done, such as Crankshaft Position Sensor Learn and etc.

🥇Full Bi-Directional Control Scan Tool - Autel MaxiIM IM608 II Key programming tool is a powerful bi-directional scanner, able to directly send command from this 10.1 tablet to control various module actuators in vehcles to perform functioning and component integrity check instantly. In addition, Autel IM608 II feature the same all system diagnosis as MaxiSys Elite II, able to support DoIP and CAN FD protocol without adapters, support VIN Scan and License Scan for quicker vehicle identification.

🥇2023 Newest Functions - Autel Scanner IM608 II adds new functions that are not available on older models (IM508, IM608, IM608 Pro) such as:
1. Autel Remote Expert to access professional technical guidance;
2. Work with Autel MV108 to check hard-to-reach area or small parts of vehicles;
3. Add the support of new protocols such as CAN FD and DoIP, requires no extra adapters;
4. Add new vehicle identification methods such as VIN Scan & License Scan.
5. 5X Times Faster than IM608 Pro -Comparing to IM608 Pro, Autel IM608 II has achieved giant leap in terms of configuration: Operating system move on to Android 10 from Android 4.4; ROM get doubled up to 128GB from 64GB; support SD card max capacity up to 64 GB instead of 32GB. These updates not only offer more intuitive interface but also resolved possible latency problems happened in older models, improving the running and response speed by 5 times.

🥇100% Original Product & Reliable Services

1-year warranty & Update Service
30-days Money-Back guarantee service
24/7 in-time Professional tech support
The Hightlight Updates Based on Autel IM608 and IM608 Pro:

Operating system move on to Android 10 from Android 4.4.
Upgraded 8-core Qualcomm SDM660 8-Core Processor replacing old Exynos T5260 6-Core Processor.
Doubled RAM & ROM: 4GB/128GB; SD card support up to 64GB (IM608 Pro support max 32GB)
16MP Rear camera replacing the previous 8MP one.
Optimazed newest Software version & More Intuitive Interface.
Conclusion: Thanks to these upgrade, Autel IM608 II fix running latency problem, low response, network unstable problem and other problems that frequently happened in the old IM508/IM608/IM608 Pro. Autel IM608 II not only offers more intuitive naviagtion interface, but aslo enhanced the running & response speed by 5 times.
Specifictions
Operating   System
Android 10
Processor
Qualcomm SDM660 Octa-core Processor (2.2GHz )
Memory
4GB RAM &128GB On-board Memory
Display
10.1-inch LED capacitive touchscreen with 1920x1200 resolution
Connectivity
Wi-Fi(802.11a/b/g/n/ac)
USB 2.0
SD Card (Support up to 64GB)
Sensors
Light sensor for brightness auto adjust
Power and Battery
15000 mAh 3.8 V lithium-polymer battery Charging via 12 V AC/DC power supply with the temperature between 0°C and 45°C
Input Voltage
12V (9-24 V)
Power Consumption
6.5W
Operating Temp
0 to 50°C (32 to 122°F)
Storage Temp
-20 to 60°C (-4 to 140°F)
Dimensions(WXHX D)
300 mm (11.81") x 220 mm (8.66") x 50 mm (1.97")
Weight
NW: 1.58 kg (3.48 lb.)
Protocols
ISO 9142-2, ISO 14230-2, ISO 15765-4, K/L-Line, Flashing Code,   SAE-J1850 VPW, SAE-J1850 PWM, CAN ISO 11898, Highspeed, Middlespeed, Lowspeed   and Singlewire CAN, GM UART, UART Echo Byte Protocol, Honda Diag-H Protocol,   TP 2.0, TP 1.6, SAE J1939, SAE J1708, Fault-Tolerant CAN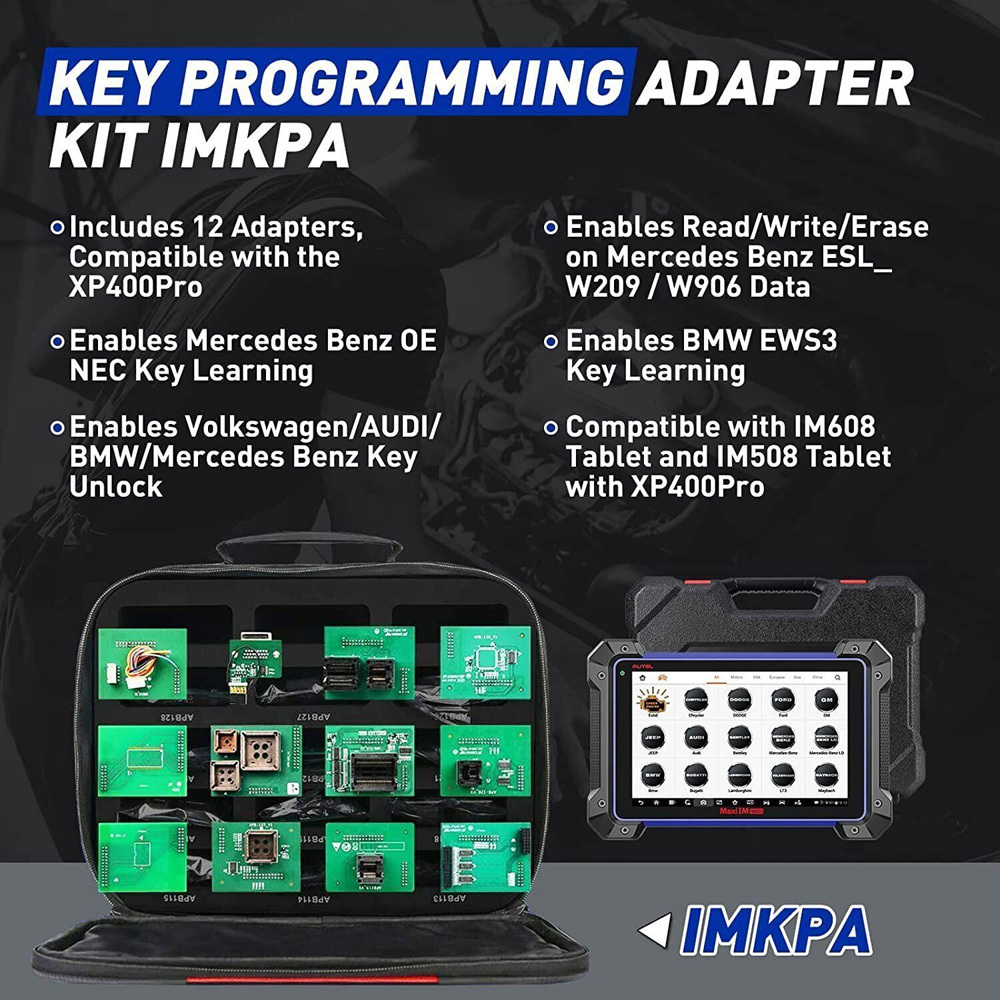 Autel MaxiIM IM608 II Kits bundle: 2023 Full Upgrade Version of IM608 Pro Key Fob Programming Tool! Conatins $1316 valued IMMO & Key programming tool kit :

MaxiIM IMKPA Key Programming Adapter
Kit Autel G-BOX2 Key Programming Adapter for BMW & Mercedes
Autel APB112 Smart Key Fob Emulator.

Autel IM608 II IMMO Programming Tool: The Best in Autel MaxiIM Series!
As the upgrade version of Autel IM608 Pro and IM608, Autel IM608 II covers 95% of vehicles (2000 later) and allows direct operating key learning & matching via OBD for 85% of vehicles, able to read IMMO DTCs, store IMMO data for the programmed key/chips, perform IMMO ECU reset, adaptation, refreshing, coding and more. Offering two modes for IMMO functions: Smart Mode & Expert Mode, allow users to select based on different situations and needs, thus improve work effoiciency to the maximum.

Offers more options for quick vehicle identification such as Scan VIN, Lisence Scan and support more diagnositic protocols such as D-PDU/RP1210, DoIP, CANFD & more, add bulit-in DoIP and CAN FD protocol (don't need adapters), able to perform quicker and more stable diagnosis on newer vehIcle models.
Autel IM608 II added new functions which can not be achieved with older models such as IMMO Programming for BMW & Benz; Engine ECU Read & Write features wider vehicle coverage, Supports CAN protocol chip read and write without password.

Smart Mode: provides guided functions with step-by-step instructions and all you need to do is to follow the instructions and click "Yes" and everything is you need will be completed. This mode is suitable for entry-level technicians or DIYers.
Expert Mode: accesses to a function menu where each function is separated from each other. Skilled technicians can use this mode to perform single function instead of all function to save time and improve working efficiency.
The included MaxiProgrammer XP400 Pro can extend its capability to the fullest:

(1) Read transponder data (including Mercedes Benz infrared smart key), and generate exclusive keys.
(2) Read/write on-board EEPROM chip data, and read/write MCU/ECU chip data.
(3) Read/write remote control transponder data and detect key frequency.
(4) Read PIN (All Key Lost/Add Key);
(5) Remote Learning / Key Generation / Key Learning
(6) For VW/Audi 4th / 5th Generation IMMO Key Learning; For VW MQB Key Learning via OBD; For VW/Audi/BMW Key Unlock
(7) For Benz 3rd Generation IMMO Add Key, All Key Lost via OBD; For Benz OE NEG Key Learning
(8) For BMW FEM/BDG Key Learning and Adaptation; For BMW CAS4/3/2 Key Learning; For BMW EWS3 Key Learning
(9) Backup / Restore IMMO Data; IMMO ECU Reset / Adaption / Refresh / Coding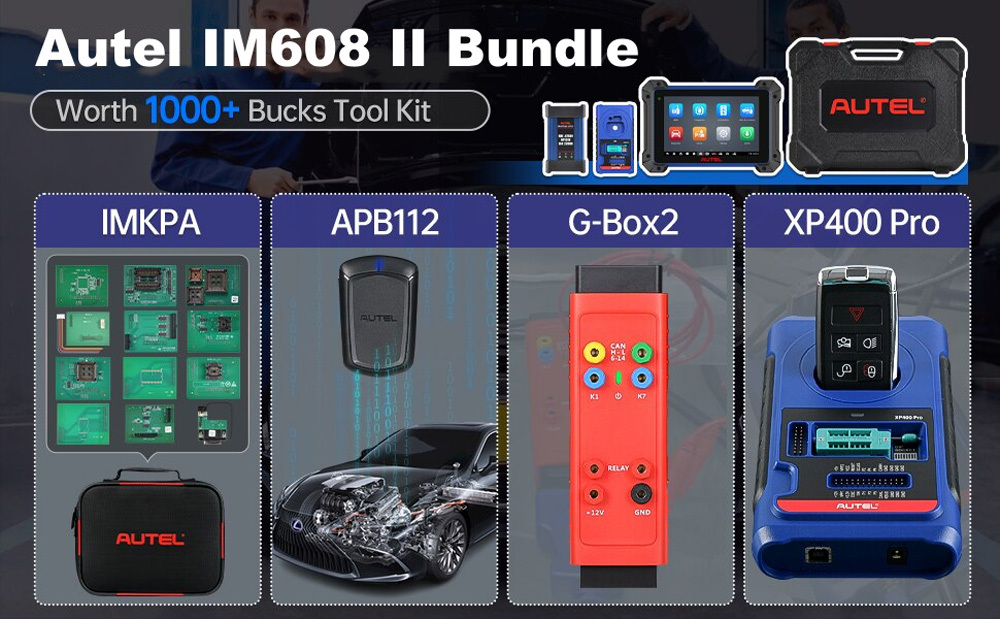 Comparison

Model
IM608 
IM608 II
Version
Suspend Production
Upgrated of IM608 / IM608 Pro
Operating System
Android™ 4.4.2, KitKat
Android 10
Processor
Samsung Exynos hexa-core Processor (1.3GHz Quad-core ARM Cortex-A7 + 1.7GHz Dual-core ARM Cortex-A15)
Qualcomm SDM660 Octa-core Processor (2.2GHz )
Memory
2GB RAM & 64GB On-board Memory
4GB RAM &128GB On-board Memory
Display
10.1-inch LED capacitive touch screen with 1920x1200 resolution
10.1-inch LED capacitive touchscreen with 1920x1200 resolution
Connectivity
•Wi-Fi (802.11 a/b/g/n/ac),USB: 2.0,BT v.2.1 + EDR,SD Card (Support up to 32GB),HDMI
Wi-Fi(802.11a/b/g/n/ac)USB 2.0 SD Card (Support up to 64GB)
Sensors
Gravity Accelerometer, Ambient Light Sensor (ALS)
Light sensor for brightness auto adjust
Power and Battery
15000 mAh 3.8 V lithium-polymer battery
Charging via 12 V AC/DC power supply with the temperature between 0°C and 45°C
15000 mAh 3.8 V lithium-polymer battery Charging via 12 V AC/DC power supply with the temperature between 0°C and 45°C
Input Voltage
12 V (9-24 V)
12V (9-24 V)
Power Consumption
6.5 W
6.5W
Operating Temp.
0 to 50°C (32 to 122°F)
0 to 50°C (32 to 122°F)
Storage Temperature
-20 to 60°C (-4 to 140°F)
-20 to 60°C (-4 to 140°F)
Dimensions (WxHxD)
300 mm (11.81") x 220 mm (8.66") x 50 mm (1.97")
300 mm (11.81") x 220 mm (8.66") x 50 mm (1.97")
Weight
NW: 1.42 kg (3.13 lb.),GW: 8.655 kg (19.08 lb.)
NW: 1.58 kg (3.48 lb.)
Protocols
ISO 9142-2, ISO 14230-2, ISO 15765-4, K/L-Line, Flashing Code, SAE-J1850 VPW, SAE-J1850 PWM, CAN ISO 11898, Highspeed, Middlespeed, Lowspeed and Singlewire CAN, GM UART, UART Echo Byte Protocol, Honda Diag-H Protocol, TP 2.0, TP 1.6, SAE J1939, SAE J1708, Fault-Tolerant CAN
ISO 9142-2, ISO 14230-2, ISO 15765-4, K/L-Line, Flashing Code,   SAE-J1850 VPW, SAE-J1850 PWM, CAN ISO 11898, Highspeed, Middlespeed, Lowspeed   and Singlewire CAN, GM UART, UART Echo Byte Protocol, Honda Diag-H Protocol,   TP 2.0, TP 1.6, SAE J1939, SAE J1708, Fault-Tolerant CAN